The Good Life Festival™ at Encanterra presents Joan Jett and the Blackhearts & Cheap Trick
Price: General Admission $45 Reserved Seating $75 - $95
Date: Sat, Mar 03, 2018
Time: 12:00 pm - 7:30 pm
Venue: Encanterra
Location: 36460 N Encanterra Dr, San Tan Valley, AZ 85140
We are opening for
Joan Jett and the Blackhearts &
Cheap Trick at 2:15PM March 3rd!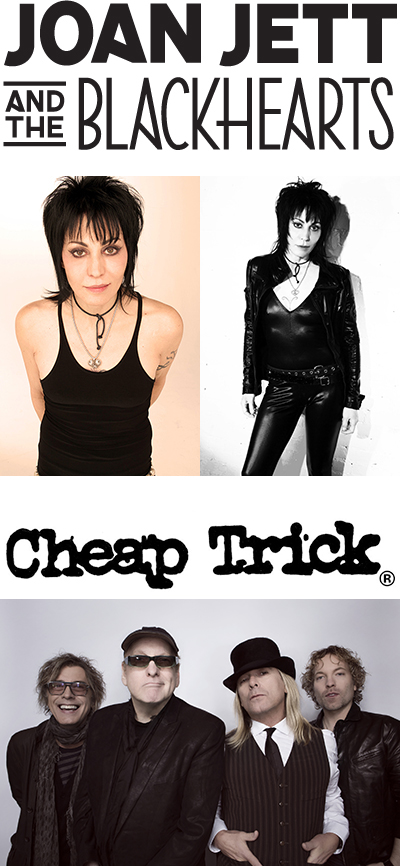 About Joan Jett and the Blackhearts
Joan Jett is an originator, an innovator, and a visionary. As the leader of the hard- rocking Blackhearts, with whom she has become a Rock and Roll Hall of Fame inductee, she's had eight platinum and gold albums and nine Top 40 singles, including the classics "Bad Reputation," "I Love Rock 'N' Roll," "I Hate Myself For Loving You," and "Crimson and Clover." Her independent record label, Blackheart Records, was founded in 1980 after she was rejected by no less than 23 labels. Blackheart is one of the longest running indie labels and continues to give voice to new bands. Jett has acted in movies and television, including 1987's Light Of Day, and in a Tony-nominated Broadway musical, The Rocky Horror Show. She has appeared on such acclaimed television shows as Oprah (the last season) and Law and Order.
As a producer, she has overseen albums by Bikini Kill, Circus Lupus, as well as the Germs' LA punk masterpiece, GI.
Her music has become a permanent force in mainstream culture. A version of "I Hate Myself for Loving You" was reworked for NBC's Sunday Night Football theme song, "Waiting All Day for Sunday Night," and was performed for 9 seasons by the likes of Pink, Faith Hill and Carrie Underwood. Her music is heard in countless films and TV shows including Easy – A, Kick Ass, The Runaways, Shrek, Baby Mama, and many more.
Since co-founding the Runaways, the pioneering all-girl punk quintet, at age 15, Jett's determination and drive have kept her in the public eye. Jett was able to see her story told in The Runaways, the film based on (lead singer of The Runaways) Cherie Currie's book Neon Angel starring Kristen Stewart as Jett, and her fellow A-lister Dakota Fanning as Currie. Jett was close to the project: She served as an executive producer. Jett and the Blackhearts released their latest record, 'Unvarnished,' in 2013 and continue touring the globe to throngs of adoring fans.
Joan Jett has spent her lifetime breaking barriers and challenging expectations – this is, after all, a woman who is both a spokesperson for PETA and a devoted supporter of the US Military. She's fought hard for all of her historic accomplishments, yet she remains humble and appreciative.
"I've had a blessed career," she says. "I consider myself so lucky to have been able to do things my own way."
About Cheap Trick
Cheap Trick are an indisputable American institution, beloved around the globe since 1974 for their instantly identifiable, hugely influential, brand of pop rock 'n' roll. The band – Robin Zander (vocals, rhythm guitar), Rick Nielsen (lead guitar), Tom Petersson (bass guitar), and Daxx Nielsen (drums) – are true pioneers with an unparalleled streak of certifiably classic tunes, from "He's A Whore," "California Man" and "Dream Police" to "Surrender," "I Want You To Want Me" and the worldwide #1 hit single, "The Flame."
2016 saw Cheap Trick's long awaited induction into the Rock and Roll Hall of Fame. The induction honored both the band and the pioneering sound that has earned them total record sales well in excess of 20 million featured appearances and more than 40 international GOLD and PLATINUM certifications. Cheap Trick closed the 2016 Rock and Roll Hall of Fame Induction Ceremony with a show-stealing performance of "Surrender," "Dream Police," and "I Want You To Want Me," prompting Rolling Stone to rave, "Their smoking three-song set (was) played to perfection, with Zander hitting all the notes he hit at Budokan back in 1978." Members of the evening's other top inductees – including longtime friend Steve Miller – then joined the band for a memorable all-star jam on Fats Domino's "Ain't That A Shame" – a song famously featured on the immortal CHEAP TRICK AT BUDOKAN.
BANG ZOOM CRAZY…HELLO made a spectacular chart entry following its release on April 1, 2016 – officially designated "Cheap Trick Day" in their beloved hometown of Rockford, IL. The collection arrived at No. 3 on Billboard's "Top Rock Albums" chart while also entering the overall SoundScan/Billboard 200 at No. 30. "When I Wake Up Tomorrow," the album's powerful first single/video, also proved a multi-format smash, spending more than 15 consecutive days at the top of the Classic Rock airplay chart. As if that weren't enough, Cheap Trick ruled the Classic Rock chart in the weeks preceding BANG ZOOM CRAZY…HELLO with a stunning 11 tracks in the format's top 15, including material recorded at a special iHeartRadio ICONS concert in New York City.